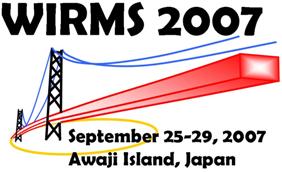 Information for Presenters



Length of talk :

Invited: 30 min (25 min talk + 5 min discussion)
Oral Contribution: 20 min (15 min Talk + 5 min discussion)

A PC projector with mini D-sub 15 pin connector (XGA) is available.

We will also prepare a Windows PC and a MAC. However, we recommend that you bring your own PC to avoid any incompatibilities.

If you would like to use OHP slides for your presentation, advance notification would be appreciated.



Poster Presentation



Size of poster board : H1,800mm×W900mm.
Poster session will be held on Wednesday night, Sept. 26th.
Posters can be mounted from afternoon on Wednesday 26th through to noon on Friday 28th.
Materials for attaching posters to the display boards will be provided.